Name: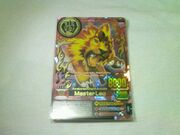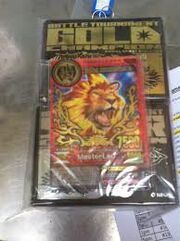 Master Leo ( Hero )
Nickname: Awakened King of Animals
Scientific Name: Panthera Leo
Type: Multi
Ability: Master Attack ( Eikouno Efreet )
Class: Ultra Rare, Champion
Strength: 8000 ( Champ 7500 )
Health: 7000 ( Champ 6000 )
Attacks:
G: Brave Fang ( Best Attack )
T: Griffning Attack
P: Eikouno Efreet ( Master Attack )
Description:
The young hero finally awakens! With his ultimate strength he has become the true king of animals.
Trivia:
Griffning Attack is Special Ops Leo's Best Attack.
Master Leo is the strongest Master Animal.
He has a son named Celeo.
He is one of the Master Animals.
Death Scorch is his rival.