Name: Master Blue ( Hero )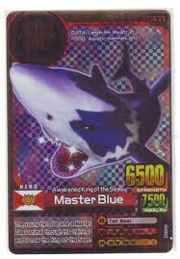 Nickname: Awakened King of Animals
Scientific Name: Carcharodon Carcharies
Type: Heavy
Ability: Master Attack
Class: Gold Rare
Strength: 6500
Health: 7500
Attacks:
G: Tall Beat
T: Koukinaru Odin ( Master Attack )
P: Holy Earth ( Best Attack )
Description:
The young hero became a Master Class animal through his training and is now the King of the Seas.
Trivia:
He has a brother named? Brutus.
He reappear in the Great Animal Kaiser.