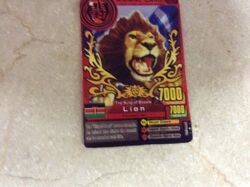 Name:Lion
Nickname: The King of Animals
Scientific name: Panthera Leo
Destination:Kenya
Strength:7000 Health:7000
Gold Rare
Attacks:
G:Royal Claws
T:Imperial Powerful Attack
P:Dynamic Spiral Attack
Miracle Match:Multi
Description:The King of Animals prove strength.An animal who climbs the summit can be awarded such title.
Trivia:This animal is the first Animal Kaiser as it is number A-001.
Second Trivia:Lion's Dynamic Spiral Attack is also related to Galleon's "Solflame" Attack.