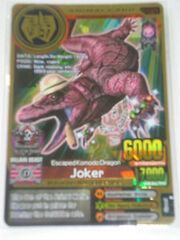 Name: Joker ( Villain Beast )
Nickname: Escaped Komodo Dragon 
Scientific Name: Varanus Komodoensis
Type: Speed
Ability: Poison, Summon The Grim Reaper, Dangerous Change
Class: Gold Rare
Strength: 6000
Health: 7000
Attacks:
G: Godfather Binta
T: Gao Ngono Gyakuryuu ( Best Attack )
P: Gorgeuos Dreader
Description:
The don of the Animal Mafia. He was put in prison for learning the forbidden arts.
Trivia:
He appears in Japan Animal Kaiser with Ace and Straight only.
He is the second animal to have ' Summon The Grim Reaper '.